Tell me how i had to be stuck at work during a storm . Ya its true . When i clocked into work today it was only light rain but then after about a half hour or so it started to downpour. Lucky i was at the front gate , with a few admissions people, under a roof for cover .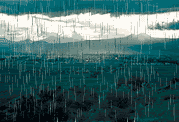 The rain was crazy coming down like cats and dogs . Yo get this , we stayed open through the storm only because we had a 1000 people , in groups, scheduled to come into the park today. This made me have a conflicting mood ..because of the storm i wished/hope they would close the park yet at the same time i didn't want to go home so early because i wanted to get my hours in , ya know?
Anyhow the storm passed and we were able to stay open and today i got sent home slightly early from my schedule time which i cant really complain with . Ya see i was supposed to be at work till 3:30 but my supervisor signed me out at 3:12 for some unknown reason, but its cool with me lol..at least i got my hours in.